Breakfast will be served each morning from 7:30 until 7:50 a.m. daily, unless it is a designated early dismissal day. Remember, breakfast is an optional part of our Child Nutrition Program. The Universal Breakfast Program qualifies all students to eat breakfast every day, free of charge!
The prices for breakfast are as follows:
Child Visitor (10 years old or younger)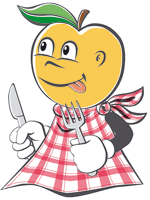 Lunch will be served daily beginning at 10:45 am and ending at 12:00 pm. All students are expected to eat lunch in the school lunch program if they do not bring a wholesome lunch from home. If students bring their lunch, they should either buy milk ($.50) from the cafeteria or bring a non-carbonated drink. Students are not permitted to consume soft drinks at school. If students bring a lunch from home, please send it in a brown lunch bag or lunch box. Remember that due to CNP guidelines and regulations, breakfast nor lunch from fast food restaurants are permitted in the school cafeteria; unless repackaged. Parents are invited to eat lunch with us on occasion and will be charged a visitor's price. Students may pay for their lunch daily or by the week on Monday morning in the cafeteria. Make checks payable to Chickasaw Cafeteria and include the child's name and lunch number. The use of the PAYPAL system is highly recommended.
The prices for lunch are as follows:
Child Visitor (10 years old or younger)
Applications for free and reduced meals will be available to parents during registration. Parents should fill out the application completely and return form to the school immediately for processing; which is also available on line. Complete one form per family household listing all school aged children on the form. Do not forget to include Food Stamp or TANIF account numbers if applicable. After the form has been processed, a letter will be sent home informing parents of the status of the request.

2. Students may bring a lunch from home or purchase lunch at school. Microwaves are NOT available to students as hot lunches are served daily.

3. Sodas nor lunches from fast food restaurants are permitted.

4. Meals may be paid for daily, weekly, or monthly. You may send a check or cash to the cafeteria. Do not send one check for lunch and snack due to the fact that these are 2 separate programs. The cafeteria cannot accept any funds other than lunch or breakfast. Include the child's name and lunch number, teacher's name and # of meals paying for on the envelope and make all checks payable to Chickasaw Magnet School Cafeteria.

5. Parents may eat breakfast and/or lunch with their child occasionally. Please, limit your number of visits to no more than once per week and inform your child's teacher know ahead of time. Please DO NOT bring fast food breakfast or lunch. This is against school policy.

The Child Nutrition Program will accommodate students with special dietary needs, i.e. diabetes, food/milk allergies, etc. Please contact the office for the necessary paperwork.

RULES TO EAT BY:
Enter and depart the lunchroom in a quietly and orderly manner.
Talk quietly to your neighbor.
Use good manners.
Clean your area after eating.